Magelis Smart BOX, Compact PC Box, Flex PC_BOX
PC box
Industrial "BOX + Display" PCs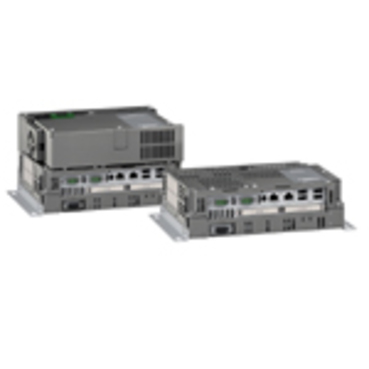 Features

Embedded BOX
» Magelis Smart BOX
Windows preconfigured, it offers the same features as the 'All in one' version.

PC BOX
» Magelis Compact PC BOX
Offers 1 PCI slot; it has the same qualities as the Compact IPC.
» Magelis Flex PC BOX
- 2 or 4 PCI slots
- Industrial HDD 24h/24 7/7 and/or 8 or 16 GB disk
- Celeron M 440 with 1.86 GHz or Pentium Core Duo with 2 GHz
- 100-240 VCA or 24 VCC power supply

And for a complete configuration:
» To convert your Flex PC BOX into an 'All in one' PC, add your 15 or 19'' Front Panel in touch version or 12 or 15'' Front Panel in touch/keyboard version.
» To connect a remote screen to your PC BOX (Smart, Compact, or Flex), add your 15 or 19'' iDisplay in touch version or 15'' iDisplay in touch /keyboard version.

Benefits

Flexible solution par excellence

From the simple preconfigured Magelis Smart BOX or the Compact PC BOX to the Flex PC BOX with its advanced features, these "BOX + Display" solutions have in common a high level of design guaranteeing the best reliability possible.

Applications

Adapted to severe environments using flash disks, the Magelis PC BOX provides optimised solutions for your client applications, HMI with Vijeo Designer and SCADA with Vijeo Citect.