EV Link private company's car park
-
Electric vehicle charging infrastructure in a private company car park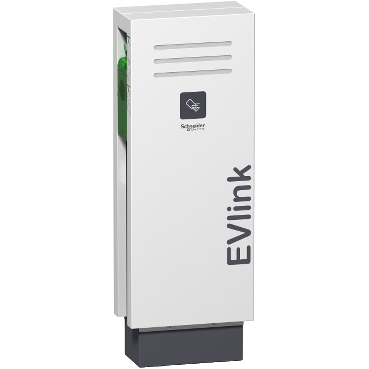 Features

Transportation is evolving and soon the electric vehicle will play an important part in the means of transport used to get to work. One of the perks that companies offer their employees may thus include the possibility to charge electric vehicles. This could be achieved in a variety of ways, free and available at no cost or free-of-charge but requiring identification, or with identification and reinvoicing to the user. Various scenarios that are made possible by the charging infrastructures for electric vehicles developed by Schneider Electric.

Access to recharging may vary:

Freely available at no cost
Controlled, non-personalised, using a company-provided identification card
Controlled, personalised, by RFID card and subscription

Technical characteristics

Frequency: 50/60 Hz
Power: 3 to 22 KW
Depending on product, integrated surge protection device
Charging mode: Mode 3 as per IEC 61851
Charging socket-outlet: type 3 as per IEC 62196 and Schuko
Mechanical protection by sliding shutter

Thanks to our offer, electric vehicle owners are able to easily and safely charge their vehicles, without any risk of exceeding their supply contract and in the most ecological manner.

Our solution includes energy management services (load shedding, demand-response, carbon footprint, etc.).

> Learn more on our electric vehicle charging infrastructure

Benefits

The development of electric vehicles presents a new trend in transportation. Employers providing car park for their employees will most certainly have to manage their need to charge their vehicles after coming to work. A service that may be provided by the company, simply by installing electric vehicle charging terminals in company car parks.

This service can be provided to employees in a variety of ways, including making it freely available and without user identification. User identification is also possible if required by law, including invoicing users for this service for example.

Identification without payment
The free-standing terminal reads the badge authorising access to the socket.

Identification with payment
The free-standing terminal reads the user's card and queries the server. When charging authorisation is granted, the socket is released and charging is authorised. Use of the service is sent to the server which checks the user's subscription.