EVlink Management Services
Charging infrastructure energy management and supervision solutions
-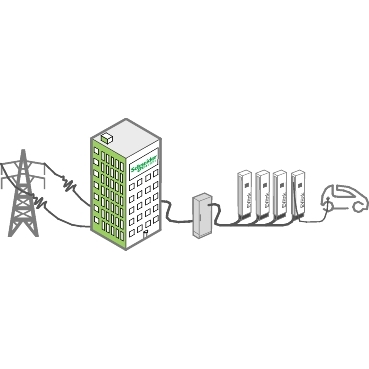 Features


Thanks to an energy management solutions and a hosted supervision portal, charging infrastructure owners can manage in real time their charging stations.
Parking stations managers can have access to data in real time through a personalized web interface.
They can adapt the energy dedicated to EVlink installations
They can also establish charging scenarios according to their own priority rules.



Benefits


EVlink Parking stations owners and managers can optimize and manage more efficiently their charging infrastructure while reducing costs.

Cluster and Energy Management:

•Avoid facility black-out, avoid operations losses
•Save money (Contract subscription, Penalties, Capex).
•Deliver maximum energy to charging points
•Be more efficient: manage globally your cluster

To learn more about solutions for Energy Management

Supervision:

•Improve EV drivers experience, avoid driver mobility issues
•Make maintenance faster, less costly and more efficient
•Simplify subscribers/drivers management

To learn more about solutions for Supervision

Applications


EVlink Management Services are perfectly adapted to parking lots and fleet managers, for single site of multiple site.